'Soldier of Fortune' is the new name for the Warlord Webstore exclusive monthly figures. These miniatures are only available for a single month before they disappear into the ether. They're also completely free with all orders over a certain threshold – read on for details…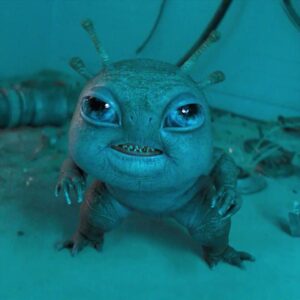 Appearances can be deceiving. The Pting might not seem all that much of a threat, but they can cause a major headache to the uninitiated. Pting are vicious, but strictly non-carnivorous – in fact they can only consume inorganic matter, taking sustenance from sources of energy. For this reason, these creatures are a particular menace to interstellar travellers. Once aboard a starship, Pting will systematically consume all vital systems, with no care for the lives of those aboard. What's more troubling is these creatures are nigh impossible to dislodge – blessed as they are with deadly toxic skin and apparent invulnerability to physical harm. A Pting could consume a bomb, have it explode within their digestive system and merely feel full afterwards, as the Thirteenth Doctor found out aboard the Tsuranga.
Condensed advice: Never engage with Pting. Risk to life: Ultimate.

Computer aboard the Tsuranga (The Tsuranga Conundrum, 2018)
Our miniature Pting is depicted with the Thirteenth Doctor's sonic screwdriver, which should provide it a tasty little snack! The Pting is an essential and unique addition to any Doctor Who miniatures collection. There'll be no mistaking that silhouette!
The Pting figure will be automatically included for FREE with all Warlord Webstore orders of £50/$75/€60 placed during the month of August – it'll also be available separately, but is limited to one per customer. This does mean that if you place an order over the threshold and include the individual figure in your cart as well, you'll receive two!*
*The Pting will be automatically added to all Warlord Webstore orders of a qualifying value (£50/$75/€60) between 00.01 BST 01/08/2022 and 23.59 BST 31/08/2022.
Into the Time Vortex
Through the lens of the Doctor Who Miniatures collection, there is an eternity of adventures to discover through all of time and space. Spanning nearly sixty years of televisual adventure, our collection of finely sculpted pewter and plastic figures will appeal to collectors and gamers alike. Covering all eras of Doctor Who, our finely detailed miniatures feature heroes, villains and the all-important monsters from the rich and diverse universe of the TV series, both old and new.