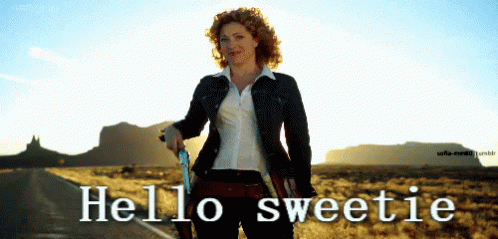 Professor River Song is one of the most storied and complex characters to have appeared in sixty years of Doctor Who, which is saying something. Archaeologist, Detective, Writer, Lecturer, Scientific Advisor and occasional Assassin, the good Professor is certainly accomplished, but it is her long, and ofttimes non-linear relationship with the Doctor that is most striking. Is it any surprise in the wibbly-wobbly time-wimey world of Doctor Who that their first on-screen meeting was simultaneously the first and last of their many great adventures together? Her appearances are always memorable, having associated with the Doctor through the Tenth to Thirteenth incarnations, but it is with Eleven and Twelve that she is most closely associated, as the Doctor's wife no less!
Born to Amy Pond and Rory Williams (in a previous incarnation – we said it was complicated!), River Song is not strictly human, having inherited some traits of the Time Lords owing to being conceived aboard the TARDIS as it travelled the Time Vortex. Her birth instigated a complex plot to rid the universe of the Doctor…
It is during the two-part (11th Doctor) story The Impossible Astronaut and Day of the Moon that some of these revelations begin to be laid bare. A mysterious summons beckons the Doctor and his companions to both 21st Century Utah and 1969 Florida. Here's a clip to whet your appetite.
The story is also notable for introducing one of the more iconic Doctor Who aliens of recent years, The Silence. That's all we're going to say on the matter here – as she might say, "Spoilers!"
Our limited edition figure depicts River Song as she appeared in The Impossible Astronaut:
River Song, The Impossible Astronaut will be automatically included for FREE with all Warlord Webstore orders of a value of £50/$75/€60 or more placed during the month of November. This is the only way to get a hold of this limited-edition miniature. It will not be available for purchase separately. This offer only applies to orders placed between 00.01 (GMT) 1st November and 23.59 (GMT) 30th November 2022.
*River Song, The Impossible Astronaut will be automatically added to all Warlord Webstore orders of a qualifying value (£50/$75/€60) between 00.01 BST 01/11/2022 and 23.59 BST 30/11/2022
Doctor Who: The End of Time Promotion
We have several unreleased and exclusive sets of models which we have made available as part of our Doctor Who: The End of Time promotion – but only for a very limited time!
Simply spend £75.00, $100.00 or €100.00 on any products on our webstore and you will be able to add your choice of one of these limited-edition packs to your order for free. To activate this offer, simply add your chosen pack to your cart of £75.00, $100.00 or €100.00. Please note, you can only add a single pack from this collection to a qualifying order. To qualify for more than one free pack you will need to place additional orders.
This offer stacks with the Soldier of Fortune offer, so if you spend the required amount on an order during November and choose one of the free items, you will also receive a limited edition River Song figure.
This promotion will be available until the 31st December. We have not renewed our license with the BBC, so we are prevented from releasing the unreleased models traditionally – we can only offer them as promotional items.
To find out which promotional packs are on offer, hit the below link.