As anyone who's visited our Nottingham HQ store will know, our fantastic store team have put together just a few brilliant gaming boards over the years, ranging from exotic extra-terrestrial moonscapes to the rolling hills of England, and everything in between. The worlds of 2000 AD are no exception, and the latest project brings the mean streets of Mega-City One to the (slightly less mean) halls of Finch Close! I collared the store's hobby Wunderkind Conor Hind for a chat about the process, history, and future of this awesome tabletop metropolis.
CH – This board actually started life as a 6'x4' Stalingrad table for Bolt Action. It was coming to the stage of its lifespan where it needed some care and renovation, and with the (at the time) upcoming release of Block War!, we were keen to have a bigger Judge Dredd table to allow for larger games. We also wanted an eye-catching centrepiece for the store – while a well-done 'real-world' board looks great, they can often lack the identity of something more specialised – the 2000 AD universe gave us the opportunity to work with loads of different (and very bright) colours!
The original textured foam bases of the boards were repainted to unify the colours and give the appearance of worn urban concrete – honestly, this was what took the longest, as there was a lot of surface area to wash and then drybrush! However, this was actually a really satisfying step, as it tied the whole effect together, and provided the perfect base from which to build upon. Right from the start we wanted the entire board to be as modular as possible – we actually take a companion 3'x3' board to events on occasion – and so all of the buildings and scatter terrain can be moved around at will, or borrowed for the other board as needed. The buildings themselves are from the Judge Dredd range as well as Sarissa Precision's other sci-fi offerings, some of which we had already for Beyond the Gates of Antares boards. Their assembly and painting up was something of a group effort. Anyone that wanted to was able to take a building, and get creative – as you can see, this resulted in a riot of colour, which is exactly what we wanted. This collection of buildings has grown over time since the release of Judge Dredd, and many have been jazzed up with the graffiti transfer sheet and some homemade signage – my favourite has to be Get Ugly!, presumably selling all of Otto Sump's finest wares! It's just so 2000 AD that it immediately places the whole board into context for me.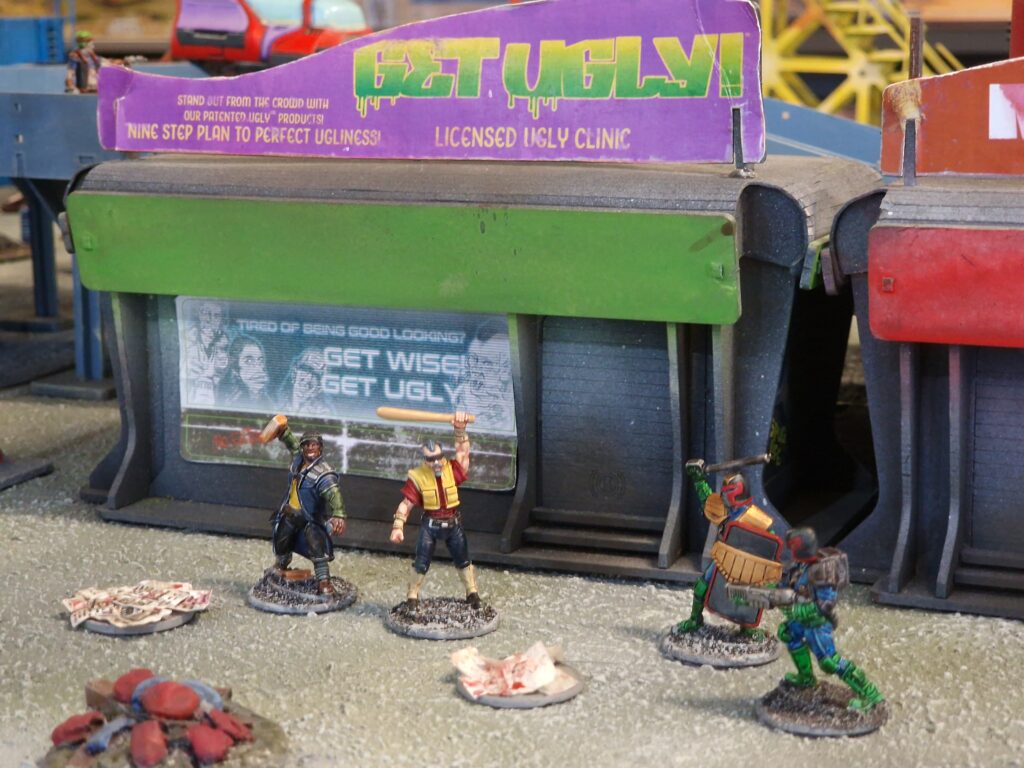 As all of the terrain is modular, we can never have too much of it! Going forward, we'll keep adding buildings and scatter, and we're all really looking forward to getting some games in, particularly with all the new scenarios and cool toys from the new Block War! expansion in, as well as seeing our regulars and other visitors bring their fantastic figures down to use it!
MV – If you want to see this awesome table (and many others) in the flesh, pop down to our HQ store and chat to the creators in person. You can even bring your gangs and fight for tabletop supremacy on it! (Wargaming… on a tabletop? What a novel idea!) Check HERE for opening times and directions – we look forward to welcoming you to Warlord Games… and Mega-City One!
Populate your own 2000 AD boards with our MDF scenery offerings, courtesy of our friends at Sarissa Precision!
---
Block War! Expansion – Out Now
Block War allows players to build their own block with unique characteristics, gather their residents together, and then unleash them on the self-satisfied citizens of a neighbouring block – who have had everything their own way for far too long! Included are new rules for use in the Judge Dredd Miniatures Game; new characters and units, new Armoury cards to add to your deck, and a brand-new Block War deck that brings the sheer violence and chaos of a block war to the tabletop – along with a lot of Judges!
The streets of Mega-City One have just become a lot more violent…
Judge Dredd: Block War Expansion contains:
80-page Block Wars book,
Pad of 100 City Block datasheets
15-card Block War deck
Three new Armoury cards
Two rampaging resident figures (in Warlord ResinTM) – exclusive to this set!
New Block War Units & Weapons