October 1952. The Korean War. After several requests were made by the members of the 5th Marine Regiment's Recoilless Rifle Platoon they were finally allowed to buy pack animals to carry up to nine 24-pound shells for the unit in October 1952. By chance a local Korean stable boy was selling Ah Chim Hai for $250 at a local racetrack, needing the money for an artificial leg for his sister. The unit renamed her Reckless, after their support weapon.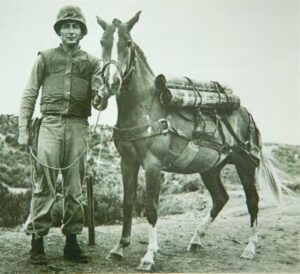 Reckless was a mare of Mongolian horse breeding. She was allowed to roam freely through camp, often sleeping in the marines' tents. She became known for her tendency to eat almost anything, this included beer and coca cola, but on one occasion, poker chips. Nevertheless, she was taught all the skills of war required for her duties and performed more than ably. She was quick to learn routes and could thus deliver supplies to the troops without a handler.
Her most notable day of combative action would take place during the Battle of Outpost Vegas in March 1953. In a single day, Reckless made no less than 51 solo trips, conveying 386 recoilless rifle rounds to her unit. Additionally, she escorted or carried several wounded marines to the nearby aid station. This was all in spite of incurring two wounds herself during the day. She was promptly promoted to Corporal.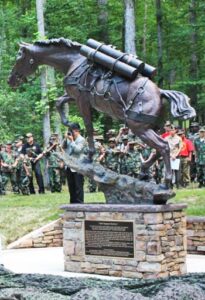 Later in the conflict, Reckless became the first horse in the service of the Marine Corps to participate in an amphibious landing. Highly decorated, she received two Purple Hearts, and a Marine Corps Good Conduct Medal, amongst other military honours. In 1954, after the war, she received a battlefield promotion to Sergeant (furthered to Staff Sergeant in 1959) and spent her remaining days at Camp Pendleton in California. During this time she made appearances in publications such as LIFE magazine as one of America's 100 all-time heroes, and featured on television.
Today, you can still find a plaque and photo dedicated to her memory at the stables situated there. A statue was also erected in her honour at the National Museum of the Marine Corps at Quantico, Virginia.
On the Tabletop
Rules for fielding Sergeant Reckless can be found in Bolt Action Korea (Page 211). She has somewhat of an unusual profile, counting as a Veteran medic whilst simultaneously providing a powerful boon to nearby recoilless rifle units.
The limited-edition figure is also ideal to represent any pack mule or beast of burden for any Bolt Action army.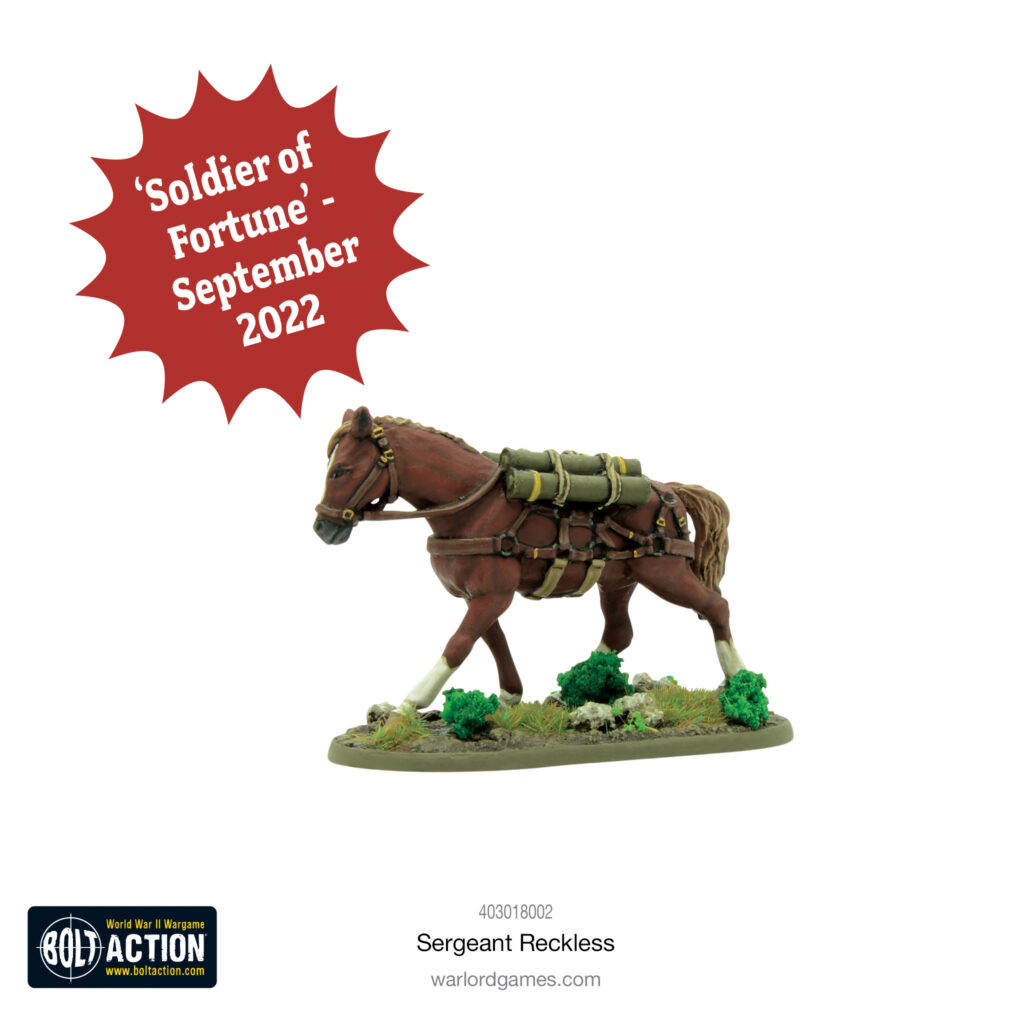 Sergeant Reckless will be automatically included for FREE with all Warlord Webstore orders of a value of £50/$75/€60 or more placed during the month of September. This is the only way to get a hold of this limited-edition miniature. It will not be available for purchase separately. This offer only applies to orders placed between 00.01 (GMT) 1st September and 23.59 (GMT) 30th September 2022.
*Sergeant Reckless will be automatically added to all Warlord Webstore orders of a qualifying value (£50/$75/€60) between 00.01 BST 01/09/2022 and 23.59 BST 30/09/2022