Over the last few weeks, rumours have abounded at Warlord Games HQ… tales of British tanks, painted so well as to catch the eye of the Design Studio's own Darek, master of all things mechanised. With an internal staff painting contest on the horizon, many wondered if one of these fabled vehicles would make an appearance – and they were right! Running away with a victory was Head of Business Development Pete Gosling, with a truly stunning British Sherman! As gutted as I was that my plucky Volkssturm tank hunter hadn't placed, I knew I had to sit down with Pete to find out just how he'd achieved such a fantastic vehicle!
Pete's been painting since the late '80s, but over lockdown he revolutionised his process when he acquired an airbrush, unlocking all sorts of fancy new techniques. His prize-winning Sherman was part of his learning process with the new toy, and it wasn't alone. He'd started with the British Tank War Starter Set – and two more Shermans and a trio of Churchills, each painted to the same ridiculous standard, promptly appeared from his figure case! With three in desert camouflage and three in European green, it was clear that Pete had been busy… He'd actually begun work on the green tanks first, but the launch of A Gentleman's War prompted him to switch tack and get some desert goodness on the go too.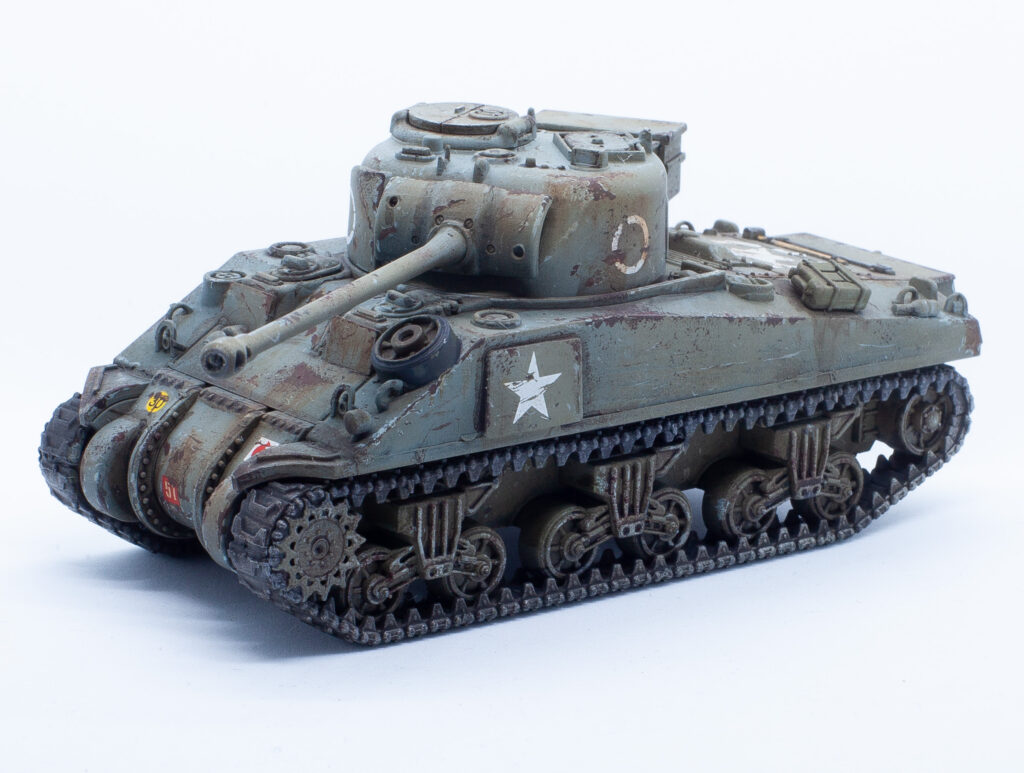 One of the first new techniques Pete wanted to try out was 'pre-shading', essentially applying a shade before the basecoat to give the final model more depth and definition. This was one of the most nerve-wracking parts of the entire process, he says, as he would have to paint over all of his hard work and hope he'd got it right! I think the results speak for themselves, however, and the technique adds a fantastic depth to the model that's very difficult to achieve with traditional methods.
A devotee of many scale modelling luminaries, Pete enjoys 1/56 wargaming kits because, as he puts it, "I don't have the time to build a 200-piece kit, but I can get these finished nice and quickly". The ease of assembly gives him more time to go to town on the painting, and in particular the weathering, using techniques that have been commonplace in scale modelling for decades, but are only recently becoming widely-known to wargamers. The guiding principle Pete stuck to here was to keep the weathering in-scale with the model, and realistically placed – no random paint on constantly-moving surfaces here! Using a combination of slow-drying enamels and oils, thinned with white spirit, he was able to create blended streaks of grime and spots of rust, creating a fantastically realistic effect. A mixture of enamel effects paints and weathering mud made for great dirty and dusty tracks, which are an absolute must-have for me. He's even painted the undersides of his tanks to the same standard – how's that for dedication? Not only does it mean the entire model's properly finished, he says it's a great place to practice techniques!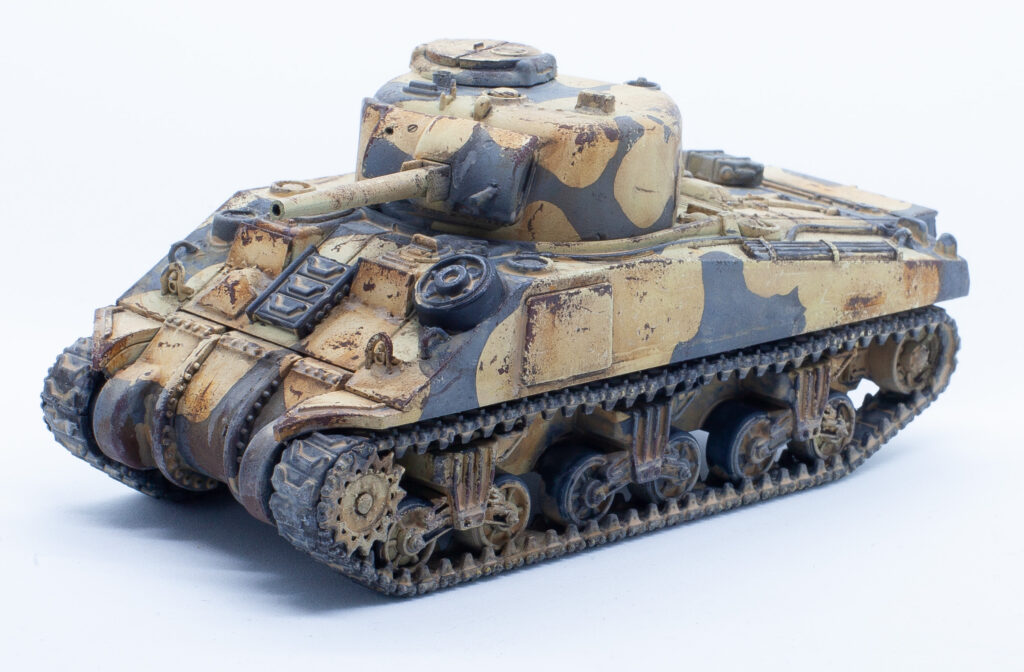 While Pete used a lot of fancy products and new techniques, he also broke out some old-school brushwork for his impressive chipping effects. Trying to keep the chipped areas realistic, he took cues from the back of an old Transit van – not exactly the most fearsome armoured beast, but great hobby inspiration can come from the least likely places. The chipping and wear really takes the tanks from 'dirty' to 'well-used', and really gives them the feel of having been on combat operations.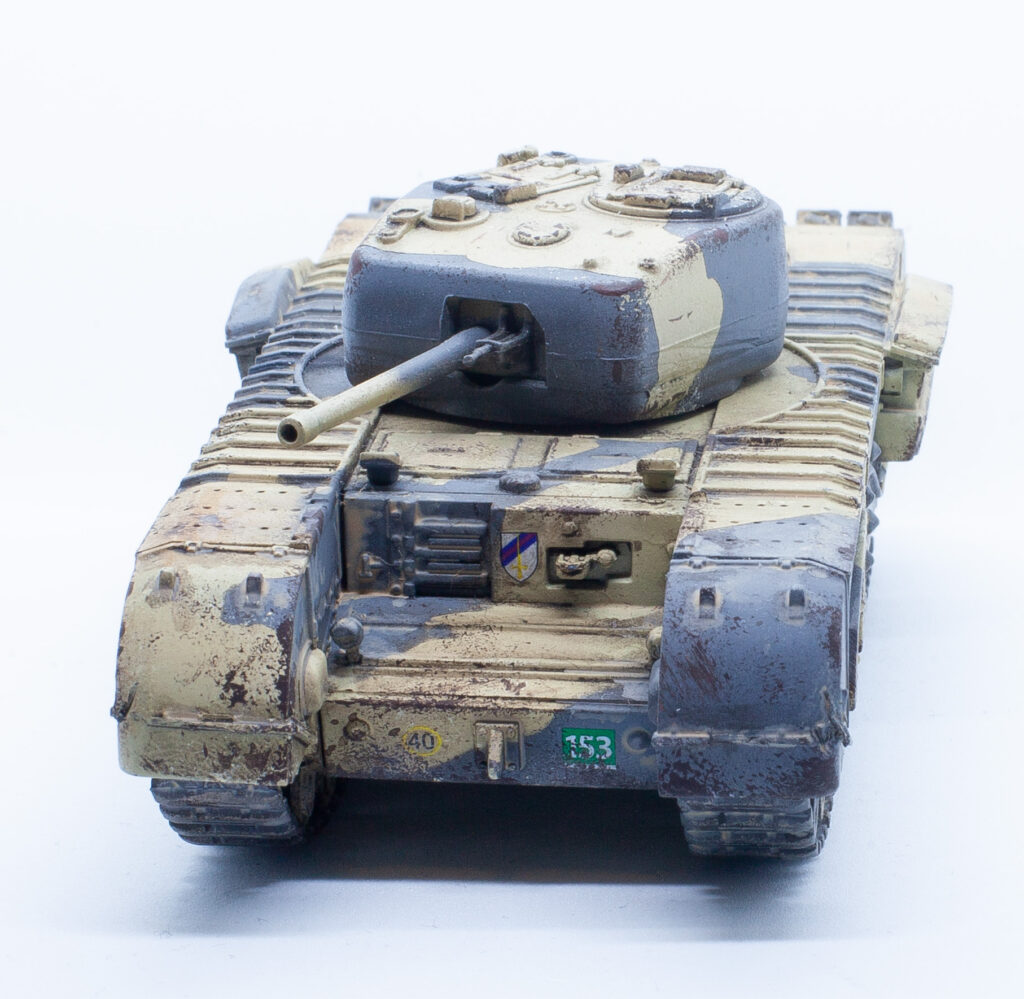 Eagle-eyed viewers may note a certain incongruity in the marques of the Churchills and the Sherman in desert camouflage, and in the exact placement of decals – for Pete, as these were practice vehicles, he wasn't particularly fussed with historical accuracy, so he simply went for what looked best! The decals gave him even more weathering practice (and a few scary moments trying to get exact colour matches), while the camouflage scheme was an excuse to play with masking putty (a particular favourite tool of mine – it's so easy to use it really does feel like cheating!). Working on all of the tanks simultaneously with a 'production line' method let Pete really nail each new technique, and also kept the project moving along swiftly. Despite the stunning quality, he estimates all six only took him about 30 hours (minus drying time) total!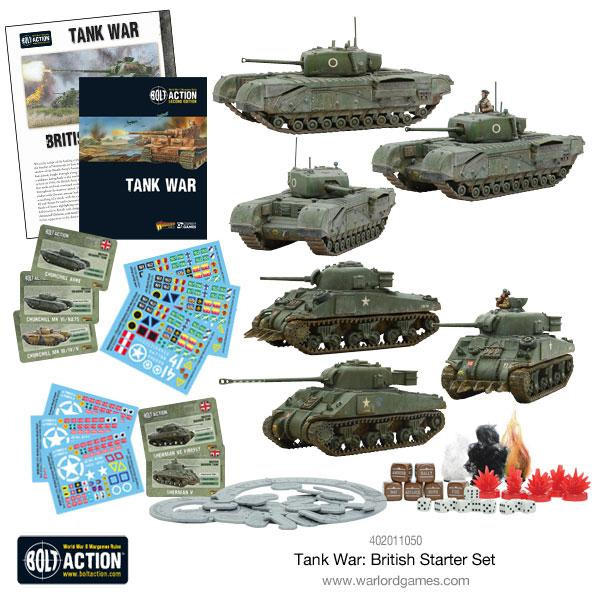 So what's next for Pete? What's he got up his sleeve to dominate the next staff painting competition with? He wouldn't tell me exactly, but I snuck a look at the folder on his desk marked 'TOP SECRET PAINTING PLANS', and I think it's going to be something from the Konflikt '47 range!