There are some debates as old as time itself. Which came first – the chicken or the egg? Does pineapple belong on pizza? Should you give your Bolt Action infantry squads light machine guns (LMGs)? While there some of these have definitive answers (pineapple on pizza is questionable at best), in the case of the LMG question there are valid points on both sides of the argument. Let's look at them here, so you can decide what's best for your force!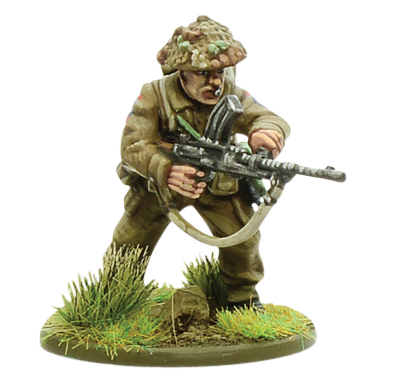 We'll start off by looking at exactly what you're getting when you buy an LMG. For 20 points, you get four shots at 36″ (or five, if you play Germans thanks to Hitler's Buzzsaw special rule). One chap in the squad becomes the loader, so you lose his shooting services, and most infantry squads can take either one or two LMGs, depending on the period and theatre. As a general rule, later war means more LMGs! Historically, the light machine gun really made its debut en masse during the Second World War, having evolved from the heavier emplaced weapons of the Great War. Intended to provide squad-level automatic fire, LMG doctrine varied from army to army, as did the exact specifics of the weapons themselves. Many nations favoured a detachable box magazine, as with the Anglo-Czech Bren, while the Germans developed the belt-fed MG34/42 family, arguably the finest machine gun ever developed, with descendants still in widespread use to this day. In Bolt Action, we treat them all the same (except for the MG34/42, due to the aforementioned extra shot – they're just that good!) – 20 points, four shots. Germans are of course the outlier here, along with things like Vickers K guns, so we'll look at the 'average' four-shot LMG for the purpose of our discussion.
Now we know what we get for our 20 points, we need to decide whether we want to spend those points or not. For those of us playing strictly historical games, or with heavily-themed lists, it's of course a no-brainer – they were in the squad in real life, so into the army they go! For those of us stepping into the crucible of competitive play, where every point matters, it's a little different. There's two main schools of thought, which we'll explore now.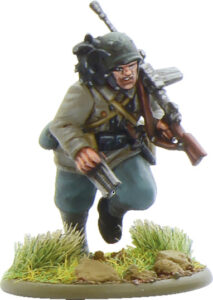 The first is that LMGs are well worth the points. For the price of two Regular soldiers with rifles (20 points) you add a net two shots to the squad (plus four from the LMG, minus one from the loader who doesn't shoot, and minus one from the gunner who would otherwise have a rifle), and extend the unit's engagement range from 24″ to 36″ inches. This allows your infantry to 'reach out and touch' enemy units earlier in the game, and start piling on the pins – as we all know, Pins Mean Wins. When the fighting gets inside 24″, a squad with an LMG has the advantage of being able to throw more dice at an opposing unit without one, giving you a better chance of winning the firefight early on, and so long as the gunner and loader remain alive, you'll still have those four shots, even as the riflemen around them start falling. Another tactic which seems to see less use than it did when I started playing Bolt Action, but remains viable, is that of five or six-man late-war or Veteran squads with a pair of LMGs, with the NCO and any spare bods simply there to absorb incoming fire. With two chaps putting out eight shots a turn between them, with some handy dice rolling they can mow through infantry foolish enough to get caught in range and out of cover, and as smaller units can more easily be squeezed into small patches of cover for protection.
All of this sounds excellent – surely, everyone should take as many LMGs as possible, right? Well, there is a dissenting opinion, which I just so happen to hold. As always, this is what I've found works best for me, so your mileage will likely vary! As previously stated, an LMG is 20 points, the equivalent to two Regular soldiers with rifles. There's an old wargaming adage which I heartily subscribe to – The best upgrade you can buy a model is another model to stand next to him. The extra shots and range are nice, sure, but in almost all situations I'd much rather have the extra bodies, as they mean that the squad will stick around for longer, which is especially useful when objectives come into play. Additionally, putting LMGs in squads can 'lock' that squad into the role of long-range fire support. You've spent 20 points on that LMG, so you're going to want to make sure the rest of the unit synergises around it – that means no SMGs or assault rifles, no anti-tank grenades, really nothing fun at all! Without the LMG, your unit can be far more flexible in what you want it to do. The final argument against the LMG is simply the cost itself – if you have, say, four infantry squads, and each has an LMG, that's 80 points! I always like to consider what I could get instead of a particular upgrade I want to purchase for a unit, and 80 points can get you plenty of extra dice, or alternative firepower – if in doubt, add a howitzer!
Thankfully, our plastic Infantry boxed sets are highly customisable and stuffed with weapons options, so you'll easily be able to come down on the fence on whichever side you prefer. I'm sure an issue this divisive will provoke plenty of… ahem… robust discussion, so please feel free to share your experiences and strategies (or just tell me how wrong I am!) in the comments below. Until then – praise the dice gods, and pass the ammunition!