Blood Red Skies players, the wait is over! New flights of squadrons and aces will be launching through the coming months, alongside a fantastic compendium of community-generated content! Let's take a look at what's taking flight in the initial waves!
Wing Commander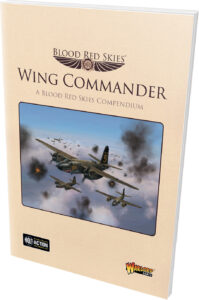 Wing Commander is a great collection of resources for Blood Red Skies players of all levels of experience, much of it sourced from the fantastic Ready Room online community and curated by the game's author, Andy Chambers. With everything from advice on generating your own scenarios to a pair of campaigns, alongside extensive profiles for dozens of aircraft from all periods and theatres of World War Two… and beyond! MiG Alley is expanded and revisited with new rules, and the skies above the Indian subcontinent are filled with the roar of jet engines as rules for the Indo-Pakistani War of 1965 appear! There's also a full FAQ and errata included, making Wing Commander a must-have for any lover of miniature aviation, and the perfect way to expand your gaming once you've mastered the basics of air combat.
Re-enter the Jet Age
Speaking of MiG Alley, its being relaunched along with brand-new aces to lead your squadrons in frantic Korean War jet action! Alongside the iconic MiG-15s and F86 Sabres, newly remastered and in Warlord Resin Plus™ are a pair of ace pilots for each side – James 'Jabby' Jabara (the first 'pure' jet ace in US service) and John F. Bolt, the US Marine Corps' only jet ace, face off against ten-kill Korean aviator Gan Gyong-Duk and the Chinese ace Zhao Baotong, described by Mao Zedong as the "King of Air Combat".
Multi-Engined Bombers
For World War Two fans, we're delighted to announce two new multi-engined bombers will, at long last, be taking to the tabletop skies! First up is the legendary Heinkel He 111H, the mainstay of the Luftwaffe's bomber fleet at the start of the war, along with decals to represent Kampfgeschwader 55, heavily active during the Battle of Britain. A squadron of three make for perfect objectives for your 109s to protect… or ideal targets for marauding Spitfires! Joining the Heinkels are the American B-26B Marauders. These fast, sleek, modern medium bombers served in all theatres in significant numbers, making them the perfect addition to any American collection. While bomber 'aces' tend to be few and far between, James 'Boss' Farrell and his B-26 (the aptly-named 'Flak-Bait') are certainly worthy of inclusion in that category. With 102 combat missions flown over Europe, Farrell and Flak-Bait survived numerous close scrapes, often returning home with significant damage. With both pilot and aircraft surviving the war, there's none better to lead your B-26s into combat!
This is just the start of things to come for Blood Red Skies over the coming months – keep your eyes peeled, as there's plenty more to come on the horizon, including some very eagerly awaited aircraft!