We recently looked at the new Scottish releases for Pike & Shotte Epic Battles as an overview, but with their imminent release towards the end of this month, we decided to get hands-on with these awesome new figures and see exactly what you get for your money in the great-value Covenanters Starter Army. Let's dive in!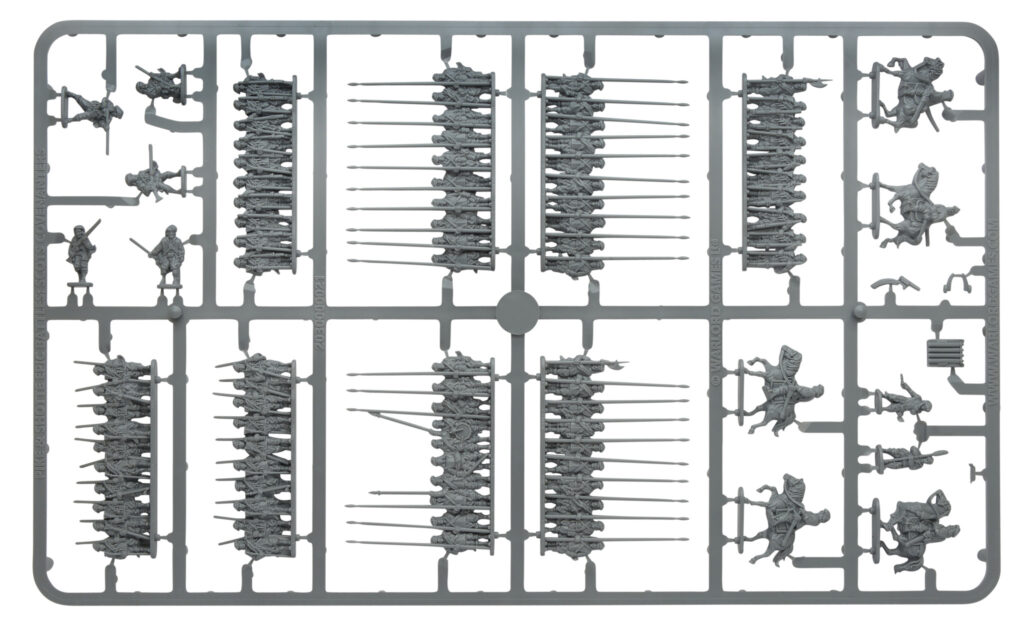 We'll start with the brand-new plastic sprue – you get twelve of these bad boys, allowing you to assemble a mighty host of Covenanters, in their distinctive Hodden Grey uniforms and blue bonnets. Using these, you can build twelve full regiments of mixed pike and musket, along with a dozen frame guns, the uniquely Scottish light artillery of the period, and each frame also includes a commander – you can never have too many officers, and they provide some great conversion opportunities to boot! Each sprue also nets you a pair of Scots Lancers and mounted Scots Dragoons, along with five dismounted Scots Dragoons, for a starter army total of 24 of each mounted type, and 60 Dragoons on foot – just what you need for securing your flanks! If you just can't wait to get one of these sprues in your hand, check out November's issue of Wargames Illustrated – one is featured as the free cover mount, allowing you to see for yourself, and get a head start on a Covenanters force!
The plastic goodness doesn't end there, however, and you also get 30 Harquebusiers, 6 Cuirassiers, 9 mounted and 15 dismounted 'normal' Dragoons, 18 commanded shotte, along with three ensigns and three cornets to help command them all, aaaaand (deep breath) a trio each of Saker medium guns and Falconet light guns, all across three more sprues. On the face of it, the Cuirassiers might seem a little odd, being distinctly old-fashioned and seeing very little use in the English Civil Wars, but many people aren't aware that large numbers of Scottish soldiers fought as mercenaries on the Continent during the Thirty Years' War, where Cuirassiers were still very much in vogue, and are actually a fantastic force for that period with a bit of a different feel. For those wanting to stay in the British Isles, a small unit are ideal, or alternatively you can use them to make some awesome and unique commanders and bodyguards – many of the wealthy and noble still retaining armour, more for style than anything else!
The fun doesn't end with the plastic! Nine Warlord Resin casualty markers are also included (these are also available separately), vital gaming accessories that also look fantastic on the tabletop to boot, alongside a trio of Warlord Resin characters, who'll get their own article in the fullness of time – the Marquis of Argyll, a dour Calvinist Minister, and Lord Leven – to exercise overall command of your forces. Oh, and there's also a brand-new full-colour flag sheet to get your regiments looking just right!
Getting all of these goodies in one huge box is definitely the best value way to start a Scots Covenanter force of your own, and is ready to game as soon as it's built and painted. Naturally, you'll want to expand after a while, though – the English are numerous and belligerent, and need to be put in their place – and the new Battalia boxed set is the ideal way to do this. Featuring a trio of the new plastic Covenanter sprues, it's a great way to quickly add a new formation to your force, and bolster your existing numbers.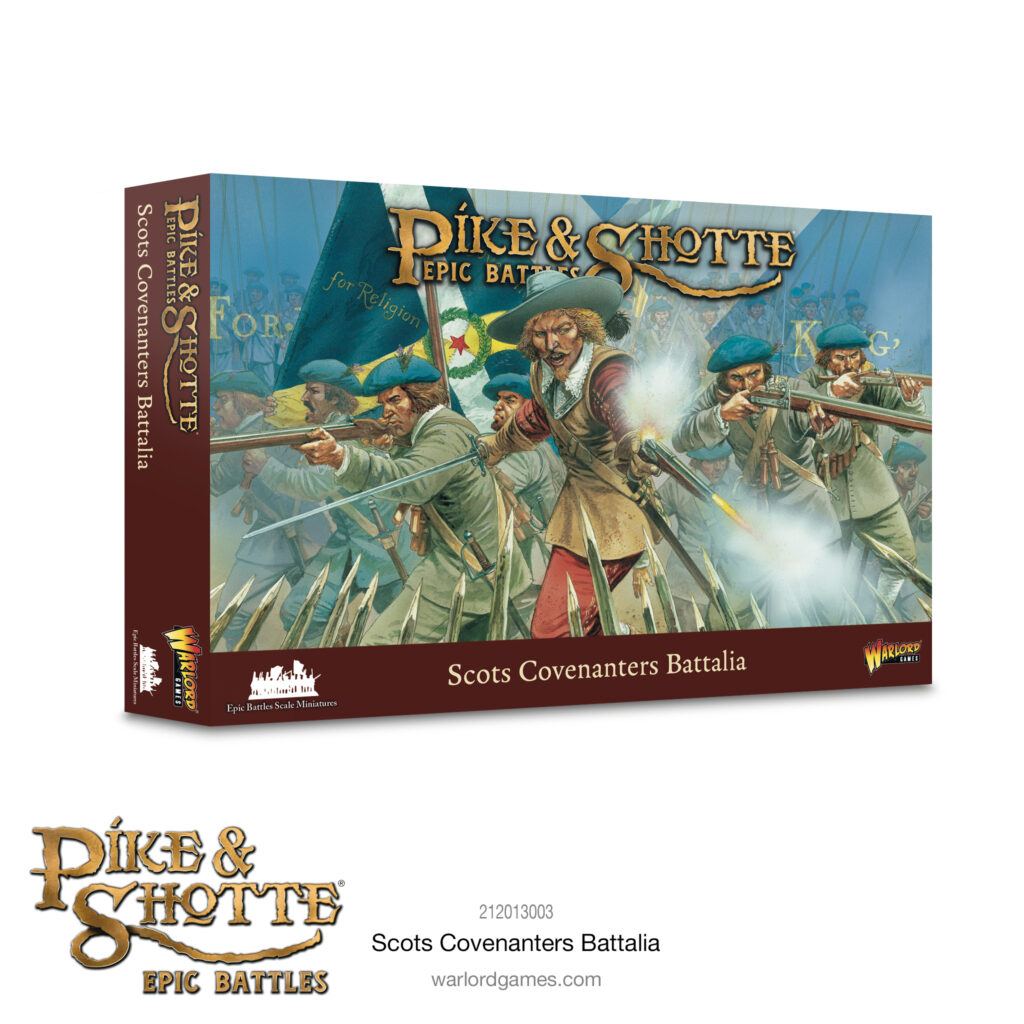 Whether on the Continent, at home in the glens, or down south, grab a Covenanter starter army and let everyone know – the Scots are coming!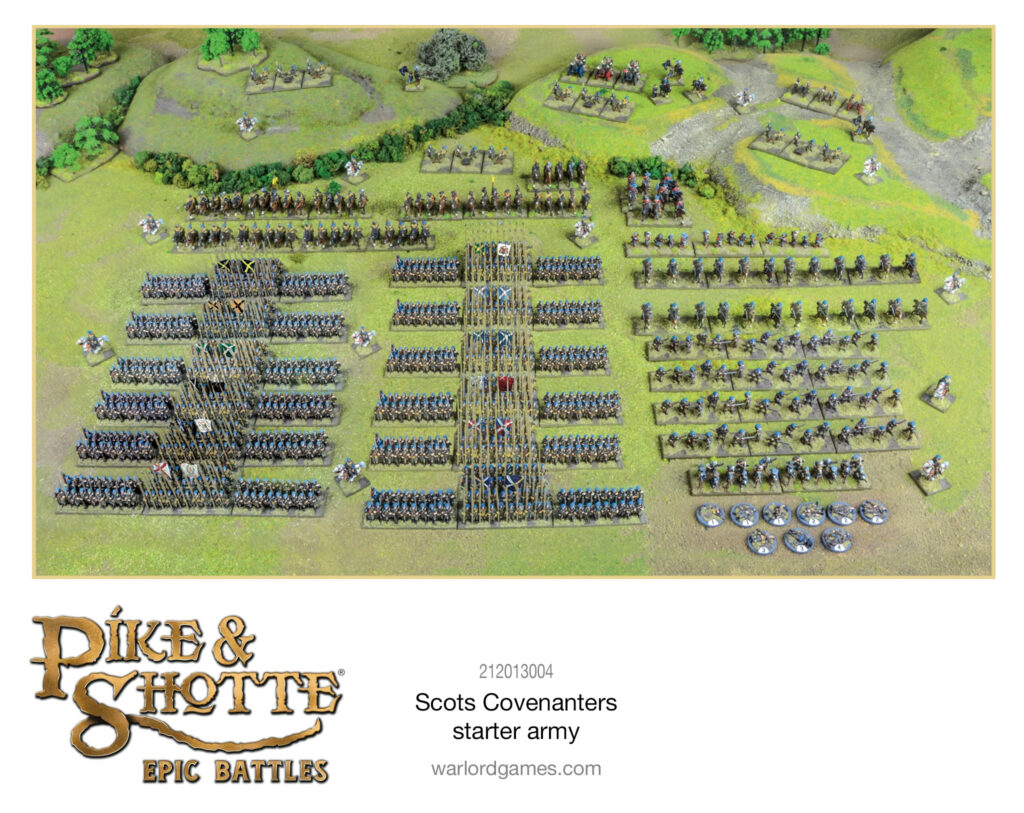 ---
Explore the Full Pike & Shotte Epic Battles Range
The new Scots Covenanters are perfect to use in conjunction with the existing Pike & Shotte Epic Battles range whether you're just setting out on your Epic Battes journey or are a seasoned veteran keen to greatly expand your tabletop experience and refight even more key battles of the Wars of the Three Kingdoms, or indeed their exploits in Thirty Year's War!
Push Of Pike Battle-set
Pike & Shotte Epic Battles: Push of Pike provides you with all the information you need to refight the wars that raged across Europe in the seventeenth century on an epic scale, with period-specific additions that capture the tactics, conditions, and prominent personalities of both these cataclysmic conflicts.
Pike & Shotte Epic Battles – Push of Pike battle set contains:
Tan and grey hard plastic figures: 6 mounted battalia commanders, 6 ensigns, 6 mounted cornets, 14 combined pike & shot regiments (80 soldiers each), 36 commanded shotte, 60 cavalry, 12 cuirassiers, 18 mounted dragoons, 30 dismounted dragoons, 6 Saker cannon and 6 Falconet light guns
Green plastic bases for all figures
A5 260-page Pike & Shotte Epic Battles rulebook
Quick Play reference card
Assembly & painting guide leaflet
Flag sheets for both the English Civil Wars and the Thirty Years' War
Laser-cut MDF fortified manor house complex
Six D6 dice
Reinforcements