Many of you will have seen previews of our new plastic Italians for Bolt Action at our Open Day on 26th September. Here are a few more details about them and what you can expect to be released to support them.
The first plastic set covers Italian Army and Blackshirt troops. Bersaglieri and Alpini mountain troops are being handled on separate sprues as the specialist nature of those troops requires different heads, weapons etc – they weren't equipped the same as their army counterparts and to do justice to all three sets each deserves its own frame.
The Italian uniform changed several times during the course of the war and we chose the pattern that could best represent a wide array of troops, at different times during the war, and in different theatres of operation. At 28mm scale, these are ideal to represent M37 or M40 tunics. We have also included the Camiciotto Sahariana pullover smock for added variety.
Weaponry includes the M91/41 rifle, M91/38 Carcano Cavalry Carbine, M38A Beretta SMG, M38 Carcano carbine, M1934, 9mm Beretta pistol and Breda M30 LMG.
A wide variety of headgear for the Italian Army and Blackshirts are included – M33 steel helmets, Bustina cap, M1935 pith helmet, Blackshirt soft fez, Blackshirt hard fez,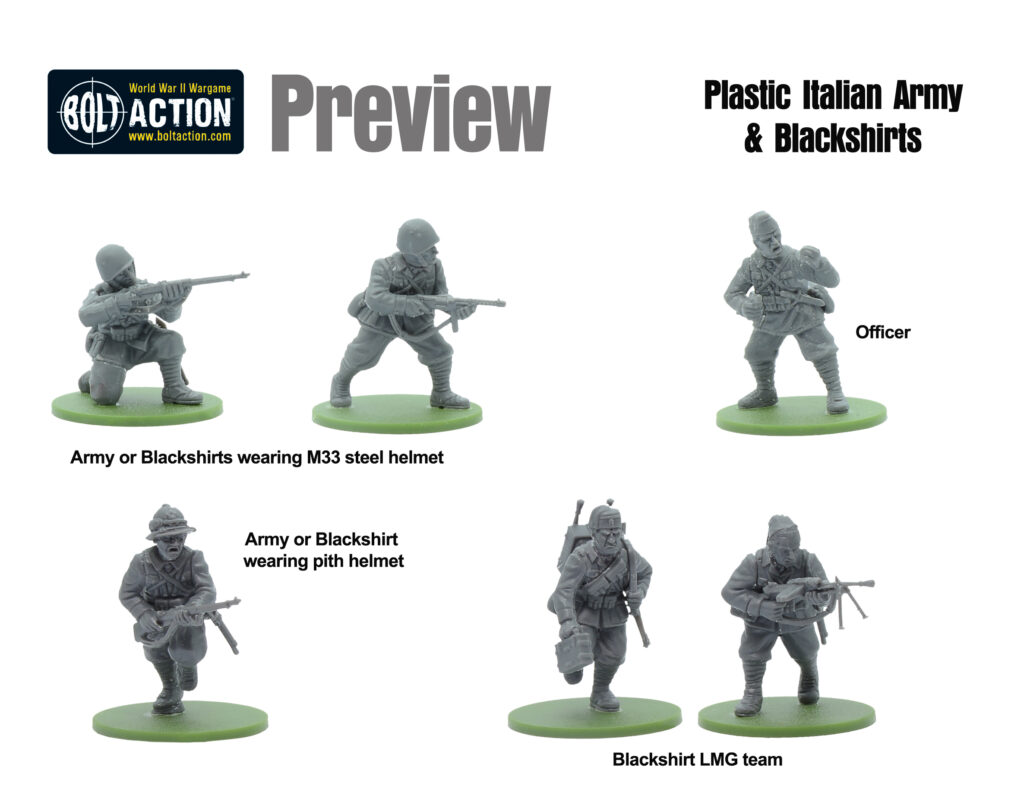 Not only that but the sprue contains masses of optional extras such as two types of gas mask bags, goggles, bayonets, combat knives, etc!
There are lots to come to support the new plastic Italian releases. Additional resin vehicles such as the Fiat 626 truck and the Scudato armoured version to allow you to get Mussolini's bots into the thick of the action as well as several armoured fighting vehicles (M11/39 medium tank, Semovente 47/32 and L6 Lanciaflamme flamethrowing tank to name but a few of the vehicles heading to the frontlines).
We will be replacing our existing range for the Italian Army entirely. They have given great service over the years but will soon be retired to the rear and fresh troops will be sent to the front in their place! The core support teams such as Breda LMGs, medium mortars and the like will be replaced by all-new sculpts up to the high standards of our new plastic figures and they will be joined by several new units such as the Guastatori assault engineers, San Marco Marines and Eritrean Colonial troops.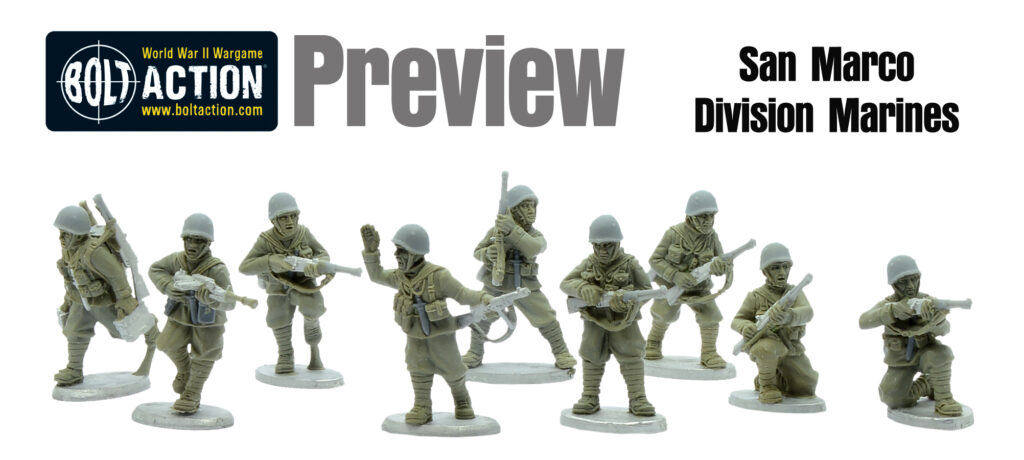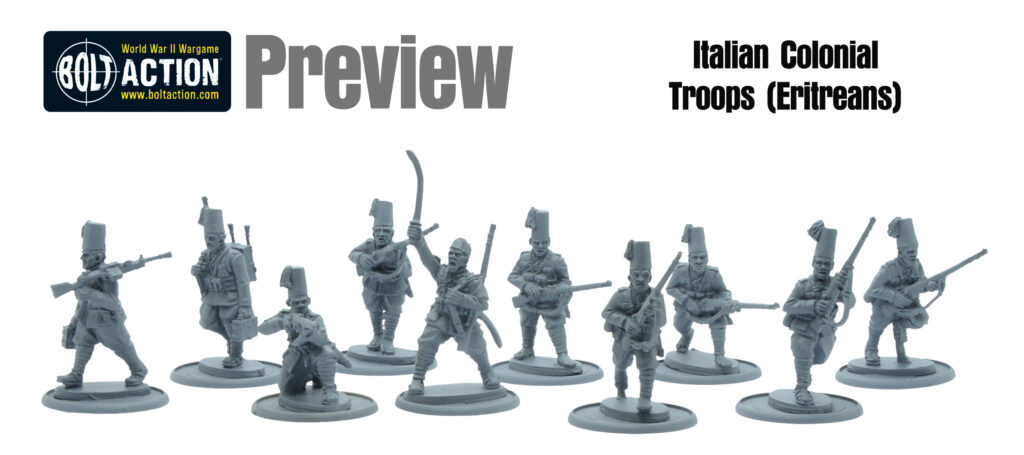 We are super excited to be bringing you the best plastic, metal and resin Italian models on the market – keep your eyes peeled for more information and previews!
Soft Underbelly
Get a head-start on planning your Italian Bolt Action tabletop exploits. The latest Bolt Action Campaign Book, Italy: Soft Underbelly, is now on pre-order for release in mid-October. It details the early stages of the Italian Campaign: from Operation Husky, the airborne and naval invasion of Sicily, the hard-fought battles in the villages and rugged mountain passes of that island, to the advance up the Italian Peninsula towards Rome.
With units, theatre selectors and scenarios for players of British (Commonwealth), United States, German and, of course, Italian Armies, this is an essential and fascinating campaign volume. For a little more detail of what you'll find within, look no further than our preview article.
When pre-ordering this Campaign book, you'll receive a special edition miniature not available anywhere else – Major General Enrico Francisci. Known as "The Fighting General" for his gallant and inspirational leadership style. Initially fighting in the Greek campaign and on the Russian front prior to being redeployed to Sicily. He was killed whilst leading Gruppo Tactico Venturi in a counterattack against US 3rd Infantry Division and posthumously awarded the Italian Gold Medal for Military Valour – joining a host of previously awarded honours.