At the back end of August, Blood Red Skies maestro Ken Natt was feeling a bit bored. Being the lovely chap he is, he decided to cure his boredom by throwing a one-day Blood Red Skies tournament! Hosted at Pendraken Games in Middlesbrough, Summer Scramble featured a morning of three competitive games for each player at 500 points, followed by a co-operative narrative scenario played after lunchtime. The latter saw Australian Spitfires attempting to shoot down IJN bombers as they returned from a raid on Darwin, and provided a great example of how the rules of Blood Red Skies can make seemingly 'unbalanced' scenarios great fun to play. The Spitfires, though outnumbered, managed to battle their way through the fighter screen and down a number of the bombers, and a great time was had by all!
On the competitive side of things, a fast and furious morning of aerial action saw (somewhat embarrassingly) Ken take victory in his own event, winning all three of his games with his late-war Soviet squadron. In second place was Dan Ibekwe with his beautiful 135 Squadron RAF P-47 Thunderbolts in their iconic Far East colour scheme, while Paul Davison came third with another Far East RAF squadron – this time Spitfire MkVs! David Lambert, meanwhile, took the coveted Best Sportsman prize, with a weird and wonderful Rumanian Air Force squadron of Me 109Gs in a stunning green-grey camouflage.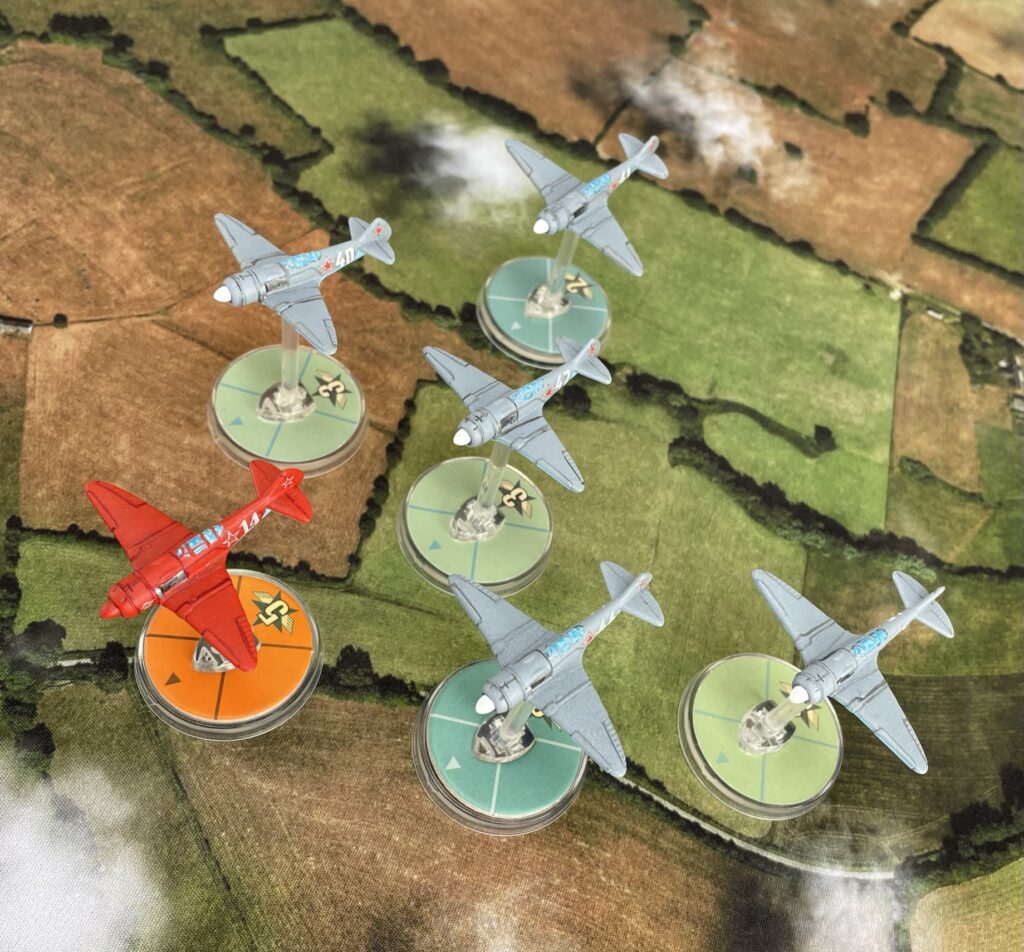 Blood Red Skies has a great advantage for competitive play in that games take a relatively short time, meaning it's possible to get more games in over the course of a day, or, as in this case, play a tournament before lunch! The relatively small number of models required also means it's quick and easy to get a squadron together – no need for last-minute painting the night before an event. The variety and potential combinations of squadrons and engagements are almost limitless, and gives tournament organisers a fantastic opportunity to create truly unique events. What we're really saying is – more Blood Red Skies tournaments, please!
Luckily for any aspiring Blood Red Skies TOs out there, we're standing by to scramble to your aid, with prize support goodies and advice! Everything that you've read in this article about Bolt Action tournaments applies to Blood Red Skies events as well – and Victory at Sea to Boot, as the Germans might say… If you're thinking about putting an event on for any of our World War II family of games, please don't hesitate to get in touch – just email info@warlordgames.com – if you're located in the Americas ask for Jon Russell, otherwise ask for Marcus! We're always on the lookout for more events to support, and who knows – yours might just end up as a featured After Action Report!
Start Dogfighting Today
The evolving nature of naval warfare gave more and more prominence to the carrier, and the control of island airfields were of paramount concern to the greater strategic concerns of the Pacific theatre. The air war over the Pacific, therefore, provides a fascinating focus for the tabletop gamer, and there was no battle more crucial than Midway, on which our Blood Red Skies Starter Set centers.
Blood Red Skies is a tabletop miniatures game in which you take command of a force of fighter aircraft in battle. The emphasis in Blood Red Skies is on controlling a large number of planes at once. Action in the game is fast-paced, with no pre-plotting or book-keeping required. A smallish game of Blood Red Skies, with six planes per side, can be fought in forty-five minutes or less.
Full Contents:
12 x Warlord Resin aircraft (6 x Mitsubishi A6-M2 Zero & 6 x Grumman F4F Wildcat)
12 x BRS Advantage Flying Bases
2 x BRS Midway punchboards
1 x BRS Plastic Token Sprue
1 x BRS Battle of Midway Rules Booklet
1 x BRS Quick Reference Card
6 x Aircraft Cards (Douglas Dauntless, Douglas Devastator, A6-M2 Zero, Aichi D3A 'Val', Nakajima B5N Kate & F4F Wildcat)
6 x Aircraft Trait Cards
17 x Doctrine Cards
18 x Theatre Cards
12 x BRS Combat Dice
1 x USN/IJN Self-adhesive sticker sheet
1 x USN/IJN waterslide decal sheet