Last weekend, some of the very best Bolt Action players from around the world descended on our fair isle, with dreams of glory in their hearts and a fistful of Order Dice. Their destination: Southend on Sea, and the fantastic SSWG clubhouse, where World Open War awaited! There was no chance I was going to miss such an awesome event, so my glamorous assistant Kieran and I made the trip south in the teeth of a storm to observe and document it for posterity.
With 16 teams (each of three players) from as far afield as South Africa, Spain, and the USA, the field was absolutely stacked, and a unique format was required. For the first day, the teams had been drawn into four groups, with the top team from each group progressing to the championship group for Sunday's games. So that everyone got a full weekend of gaming in, the teams that didn't qualify for the top group went through to their own championship groups – second place playing second place, and so on – this meant that regardless of the results on the first day, everyone would have a meaningful second day with prizes on the line!
World Open War is the creation of SSWG's own Russ Wright, a tournament organiser and Bolt Action player of serious competitive pedigree, aiming to pit the very best players from across the world against each other for international glory – a bit like the Rugby World Cup, only England had a better chance of winning something! Let's have a look at the initial groups and teams!
Group A (Day One)
Poland Black Brigade
Team Wales
USA SNAFU
S African Kommandos
Group B (Day One)
Denmark MBM Vikings
Tim Cymru
USA Swans
Switzerland Helvetia Guards
Group C (Day One)
Team Deutschland
Team England
Spain Almogavares
Barbarians
Group D (Day One)
Spanish Legion
Scotland Saltires
Denmark Jutland Company
Germany Luftwaffel
With it all to play for, the games kicked off in glorious style, on SSWG's beautiful tables, many of which featured significant changes in elevation – a far cry from the flat boards found at many competitive events – and plenty of variation in terrain density and type. One of my favourite things about the board layout here, which you can see in these pictures, is the way the boards on each row of tables 'flow' into each other, transitioning between terrain types. With scenery this good, it was important to remember that there were games to be won, rather than admiring the landscape!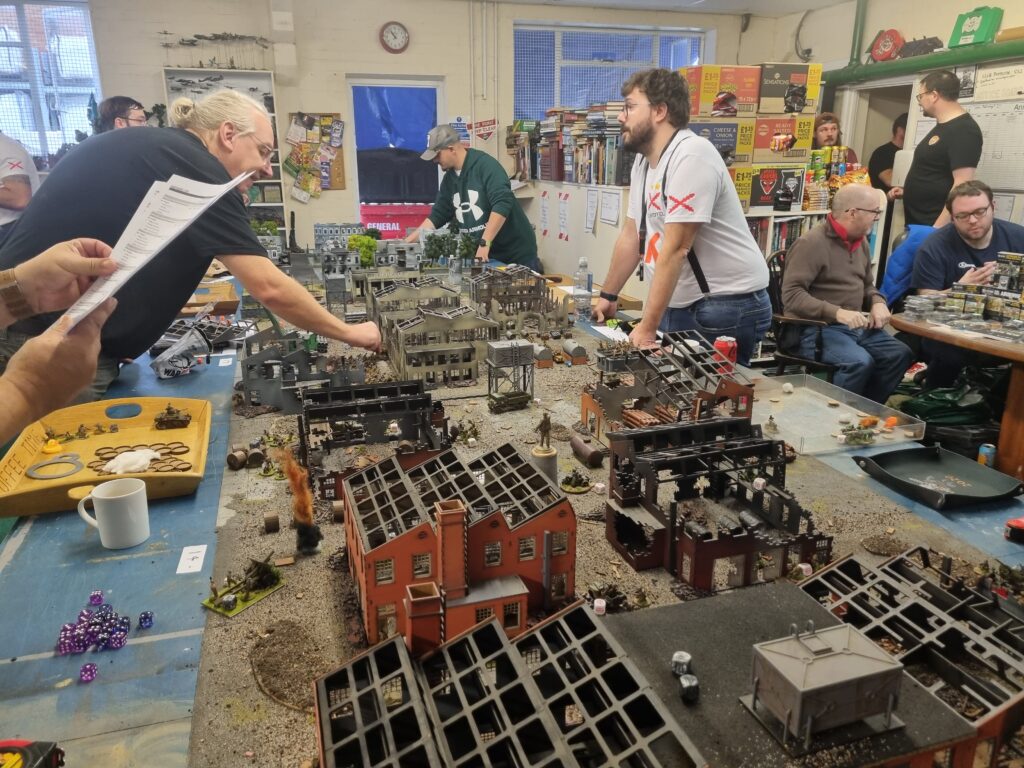 With the first two qualifying rounds in the books, there were a few surprising runs going on. Team England were on pace to top their group despite not holding a top seed going in, while the USA Swans were in a position to knock top-seeded Denmark out of contention going into their final game against Switzerland. This was a really fascinating situation to watch, as the Swans had come over from the States with some very unusual lists – many observers had all but written them off as contenders – but they found themselves on a great run of form, needing to take more points against Switzerland in their last round than Denmark could against Tim Cymru, the Welsh second squad. Sadly for the Swans, this was not to be, but a great effort gave the heavily-favoured Danes a real scare (and plenty of banter in the bar afterwards!).
With the conclusion of the third qualifying round, we had our championship group – Denmark, Spain, England, and Wales – not a bad showing for the 'home nations' (a welcome sight on a dark day for English sports!). This group featured some of the very best players in the world, with former Grand Tournament victor Acquiles skippering his World Team Championship-winning Spanish Legion, reigning Grand Tournament Champion Gary Morgan turning out for Wales, and Bo Mortensen leading a ferociously disciplined Danish Vikings squad (who actually left the Saturday evening get-together early so they could study the next day's missions!). England were ably led by Jonny Curran, and aimed to capitalise on their good Saturday form to keep the World Open War trophy on English soil! In the other championship groups, it was no less competitive, with each team wanting to prove that they deserved a higher ranking for next year, and looking to take home some silverware of their own.
Championship Group One (Day Two)
Denmark MBM Vikings
Spanish Legion
Team England
Team Wales
Group Two (Day Two)
Poland Black Brigade
Scotland Saltires
Spain Almogavares
USA Swans
Group Three (Day Two)
Denmark Jutland Company
Swiss Helvetia Guard
Team Deutschland
USA SNAFU
Group Four (Day Two)
Barbarians
Germany Luftwaffel
S African Kommandos
Tim Cymru
Day two dawned bright and early (with bacon sandwiches aplenty, as is wargaming tradition) and the World Open War championship on the line. With all to play for, the teams set at each other, with no gambit unused, no trick unpulled, and no bad dice rolls unlamented. Despite the high stakes and level of competition, there was fantastic sportsmanship on display from all players, proving that even the top levels of competitive Bolt Action (or any other wargame!) need not get nasty – all in all, a fantastic advert for the game we all love! With all this hard-fought action came the opportunity to get some fantastic photos of all the Bolt Action forces doing what they do best on the tabletop – check them out!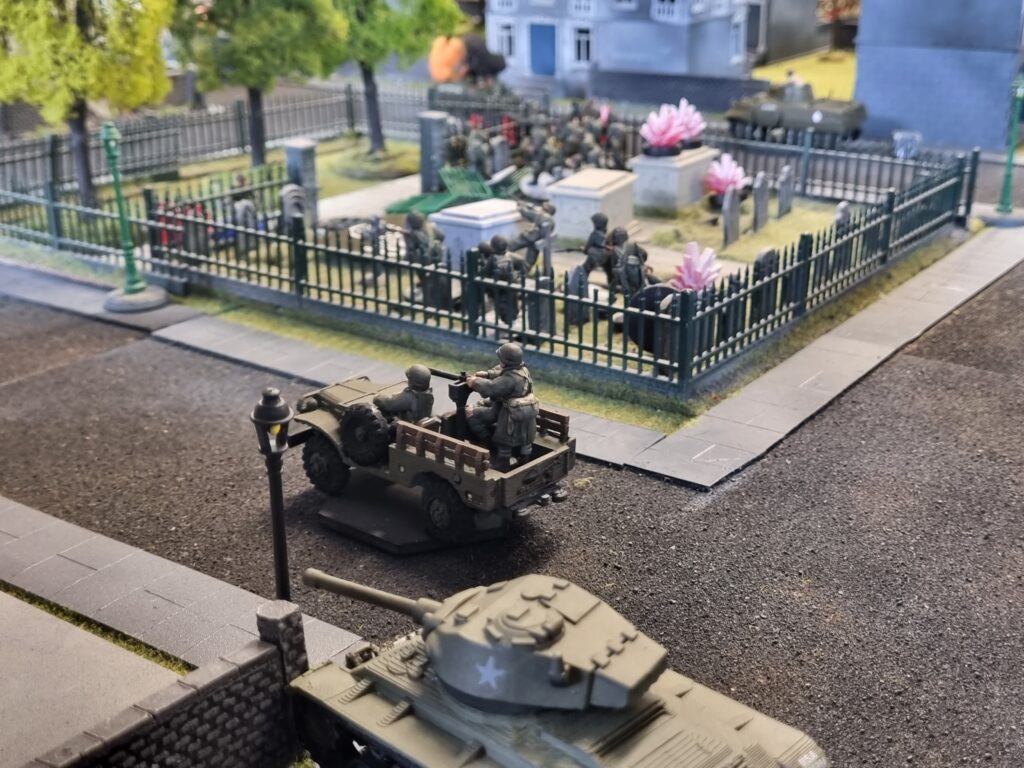 Alas, all good things must come to an end, and as the final frantic games of the last round drew to a close, it was clear that we had an overall winner. The inaugural World Open War Champions were… the Danish MBM Vikings, captained by Bo Mortensen (who extended his frankly ridiculous two-year undefeated streak in all competitions!). Recovering magnificently from a rocky first day, the dedication and planning of the Danes paid off as they were able to storm past Spain, Wales, and England to capture gold and glory! In group 2, Scotland were able to seize victory, earning themselves a top seed for next year's competition, while Germany pulled off a one-two, with Team Deutschland winning group 3, and Team Luftwaffel topping group 4. You can see the full results and final standings below!
Championship Group Results
Team Name
Final Score
Denmark MBM Vikings
20
Spanish Legion
17
Team Wales
15
Team England
4
Group Two Results
Team Name
Final Score
Scotland Saltires
20
Spain Almogavares
17
Poland Black Brigade
9
USA Swans
7
Group Three Results
Team Name
Final Score
Team Deutschland
23
Swiss Helvetia Guard
14
USA SNAFU
13
Denmark Jutland Company
12
Group Four Results
Team Name
Final Score
Germany Luftwaffel
23
Barbarians
16
Tim Cymru
14
S African Kommandos
4
With the prizes handed out, the armies packed away, and everyone safely home, the only thing that remains is the thanks. First and foremost, I want to thank Russ Wright and SSWG for organising and hosting such an amazing and ambitious event, as well as arranging delicious catering from Fujimoto, a fantastic Japanese restaurant! Gary and Colin Betts and Josh Carpenter also deserve special mention as a fantastic Tournament Organiser/Referee team who kept the games running smoothly and ensured the event went off without a hitch. Chris from SSWG was an absolute star at the tea bar, making sure all the players had plenty of hydration throughout the event, while my colleague Kieran L was an awesome assistant all weekend long – I'd say he more than earned a few days off to recover!
Finally, I'd like to thank all the players who came from near and far. Without them, there simply would be no event at all! They showed up, played the game right on the bleeding edge of competition, but in the best possible spirit of friendship and sportsmanship – you really can't ask for better!
If you're interested in the format of the event, or even fancy putting together a national squad of your own, keep an eye out for an announcement of next year's dates! For those with a hankering for even more competitive Bolt Action goodness, the player pack and tickets for the 2024 Bolt Action Grand Tournament are now live! All that's left to say is: good games, well played, one and all, and congratulations to Denmark MBM Vikings, your first-ever World Open War champions!