The Warlord Games Open Day 2022 is upon us, and as is traditional we've produced a special new figure for those attending. This year, we've gone with one of Britain's most decorated soldiers, and a bona fide hero of the Second World War – Lieutenant Colonel Robert Blair 'Paddy' Mayne, Distinguished Service Order (DSO) and Three Bars!
Mayne really has to be considered a real-life superman. Before the war, he was a keen amateur boxer and golfer, as well as a rugby star, being capped for both Ireland and the British Lions. Between his sporting exploits, he even found time to train as a solicitor but his sporting and legal careers were rudely interrupted by the outbreak of World War Two. Like so many young men, Mayne joined the British Army, initially serving as a subaltern in an anti-aircraft regiment, before volunteering to join the newly-formed Commando Force in 1940. Posted to No. 11 (Scottish) Commando, he saw service in Lebanon against Vichy French forces, earning a Mention in Dispatches for his efforts, before being recruited by the secretive and brand-new Special Air Service – the now infamous SAS.
A myth exists that Mayne was recruited to the SAS from a jail cell by the legendary David Stirling, having been imprisoned for striking his commanding officer. There appears to be no truth to this, although he had previously assaulted his battalion second-in-command over a rather nasty incident wherein his superior had ordered Mayne's pet dog shot. In any case, it was true that by this stage of his career he had something of a reputation as a troublemaker, particularly when drinking – one account of his 1938 Lions rugby tour recounts that he relaxed by "wrecking hotels and fighting dockers"! He was nevertheless a superlative soldier, and these talents would become even more apparent once he joined the SAS.
Through 1941 and '42, Mayne served with distinction in the SAS's campaign of destruction across the Western Desert, sabotaging German airfields and supply dumps and destroying enormous amounts of war materiel. including in the infamous raid on Sidi Haneish Airfield, the most successful operation of the campaign. Earning his first DSO (Distinguished Service Order) in the desert war, he went on to command the Special Raiding Section of the unit in Sicily and Italy, and later went on to command the 1st SAS Regiment in north-west Europe, frequently operating behind enemy lines and garnering significant fame and respect from his peers and commanders alike, along with an almost-unprecedented three Bars to his DSO. To the surprise of many, he was not awarded a Victoria Cross at the time, and a campaign continues to this day for him to be given the United Kingdom's highest military award.
Postwar, Mayne returned to practise law in Ireland, but a back injury sustained during the War left him in too much pain to continue his sporting career. He rarely talked about his service, and was tragically killed in a car accident in 1955, aged just 40.
To complement the fantastic new miniature (sculpted by Wojtek Flis with our studio model painted by Andrés Amián Fernández), we have not one but TWO sets of rules to allow you to field this legendary soldier in games of Bolt Action! The first can be found in Duel in the Sun, representing him during his desert raiding days, and provides a fantastic bonus to any SAS force. His Special Mission rule allows SAS units to Outflank, even in missions that do not allow it, and arrive anywhere on the opponent's board edge! The second comes from the more recent Campaign Italy: Soft Underbelly, and turns the (now Major) Mayne into a proper close-combat beast, representing his great physical strength and courage. His Strong as an Ox rule means that opponents must re-roll successful Wound rolls against him, while the Ruthless rule allows Mayne and any units within his Command Radius to more easily destroy enemy infantry in close combat!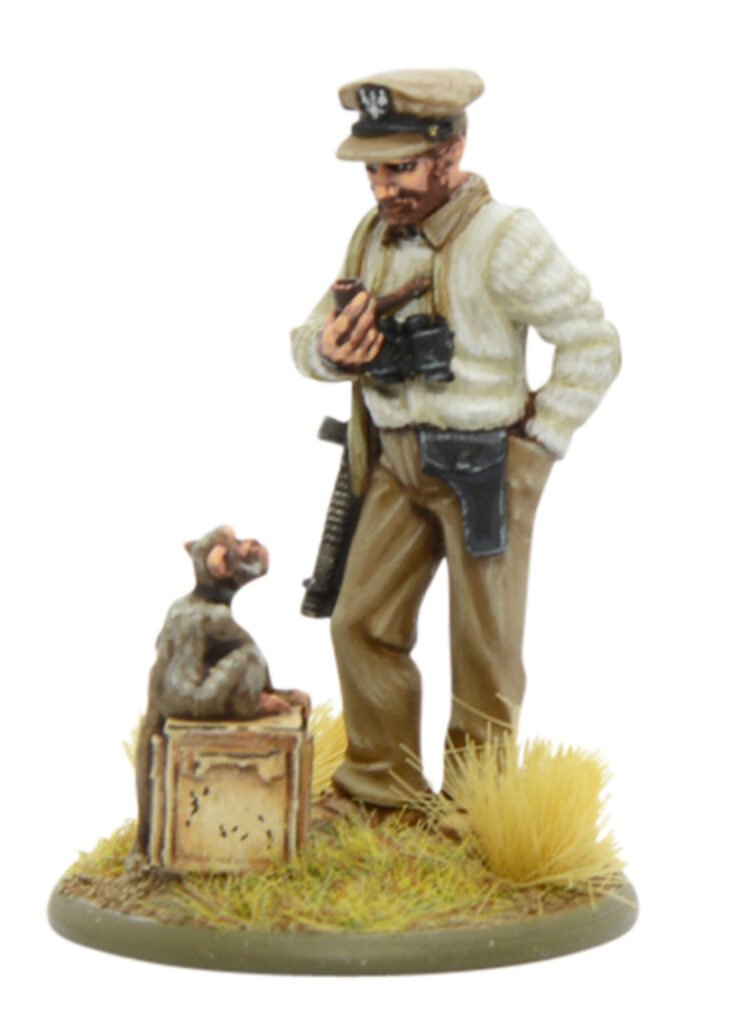 For those of us who don't fancy taking the man himself in our Bolt Action forces, the model makes a fantastic alternative officer for any British force. Whilst the figure is ostensibly desert-themed, with a different paint job (and a spot of monkey removal!), he'll do nicely for any theatre or period of the war. Attendees of the Warlord Games Open Day will receive a Paddy Mayne figure for free, and don't worry if you can't make it – he'll be available for sale on the website all weekend!
The 'Paddy' Mayne, SAS Hero – Warlord Games Open Day 2022 special figure, is only available for purchase until 23.59 BST 04/09/2022.